USB2.0 to RS232 Converter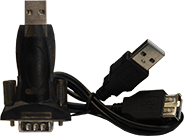 The USB2.0 to RS232 Converter has proven time and time again to work flawlessly with all USB 2.0 devices, perfect for connecting your Nikon NPL 632 directly to your computer without any connection problems what so ever! Not only is the design of the device simple to use but it's compatible with both Windows XP, Vista and the new Windows 7.
Remarkably Reliable USB to RS232 Converter
This version of the USB to RS232 converter is far superior to many others you will find on the market right now. Currently you will find that other converters will either not support certain operating systems, will not come with drivers or support, or will actually break down through constant use. The USB 2.0 to RS232 converter not only solves all these problems and is incredibly durable.
USB specifications 2.0 compliant
Supports RS232 serial interface DB9
Supports over 1Mpbs data transfer rata
Supports remote wake-up and power management
Available for USB port
Supports Win98/2000/XP/Vista/Win7 and Mac OS v8.6 or higher
Easy to connect USB extension cable
To place an order or organise a demonstration, contact PHM directly by calling
(02) 9555 9175
or email us at
Contact@phmsurvey.com.au
.